The world is changing at a rapid rate today. Business productivity currently is not able to catch up with the rate of technological changes in areas such as mobile, sensors, AI, as well as cognitive computing to name a few. This huge gap opens up an opportunity for the Human Resources function to help their leaders and organizations adapt to new technological advances and new models of work and careers. In a recent survey conducted by Deloitte HCS, most organizations surveyed view the organization of the future, careers learning, talent acquisition, employee experience, performance management, leadership, digital HR, people analytics, diversity and inclusion and the augmented workforce as key factors in their human capital strategy.
How do we as HR professionals design the HR Digital Life Cycle to capture the key trends that employers and organizations find important and relevant to the future of work and technology? The 8 key areas can be encapsulated in the following pictorial.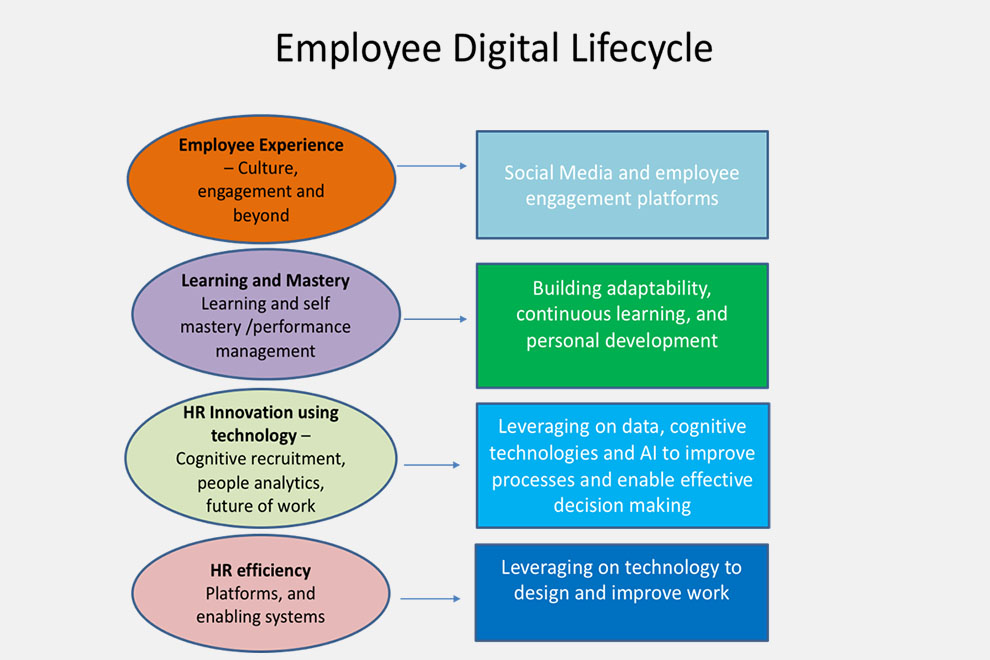 Systems need to capture and encapsulate the areas of employee experience, learning, HR innovation and HR efficiency. mind, designing your HR tech strategy becomes easier. When deploying new tech, please do keep in mind the following 4 principles:
1. Staying On Time And On Budget
2. Consolidating The Right Team On The Project
3. Implementing In Phases
4. Use Design Thinking
The success of HR tech deployment hinges on using the right methodologies, having robust business processes and developing a mindset. Major transformations today are taking place in the digital marketing space as well as in cloud computing space. The Human Resources Function is no exception. Some of the key reasons why HR needs to revolutionize their HR systems and technology include:
– Need To Become More User-Centric
– Need For The Systems To Be Highly Interactive
– Allow For High Level Of Employee Engagement
– Providing Empowerment To Millennials For Managing Their Own Information.
– Need To Position HR As A Strategic Partner To The Business Through BI Tools
Cloud technology and social media are also gradually being utilized to automate and engage employees very early in the process. In a way, employee retention now begins at the application stage of a job search! In trying to design user-centric systems, Design Thinking becomes important as we plan and deploy software to users. Design thinking can be traced back to the work of Herbert Simon who in his book, "The Sciences of the Artificial" reiterated that thinking and problem-solving behavior is artificially-learned, and subject to improvement through the invention of improved designs and their storage in memory. I would like to share 3 simple steps using the ADR Method of design thinking to deploy your HR digitization strategy.
A) PROBLEM DEFINITION
This could be a need to automate workflows, develop recruitment modules or even looking at a competency management system. Once the problem area is identified, a project team comprising of key stakeholders such as users, HR, or IT division can be formed. The group can use focus group discussions, participant observations, technology review, interviews and workshops to trace the problem. Through on-going reflections, design principles can be developed.
EXAMPLE:
Using the example of a recruitment module, design principles could include personal empowerment for users to upload information 24X7, highly interactive dashboards to engage with potential applicants and social media integration. Once the principles are formalized, the team can work towards building the solution.
B) BUILD, INTERVENE, AND EVALUATE
This stage involves planning for the initial design of the solution or software platform and shaping it through testing and design cycles. Subsequently, we build the software platform, use it for organizational intervention, and evaluate it continuously through an iterative process. In the iterative process, the solution is tested with small groups of users early in its development stage to obtain their feedback.
C) LEARNING AND REFLECTION
Lastly, we move from of the solution to applying the learning to another project. A conscious reflection of the problem and understanding how the solution was derived are important learnings that can be applied the next project
CONCLUSION
In conclusion, do take note that you should design your tech around the Employee Digital Life Cycle. The use of Design Thinking and iterative prototyping are important factors that are employed throughout the process. Other areas include stakeholder involvement and security features. Lastly, after the project is completed, design principles and reflections are captured for learning in the next Tech Project.
Feel free to leave your comments here for further discussions on this topic. Send me an InMail or email, if you prefer. Visit my LinkedIn profile page or website for more articles and insights.